Wow, another non-food blog! What is up with that? I guess I just wanted to take a little time and share spotlight some blogs with you that you may (or may not) have bothered to click on over there to the left of my posts. Basically, I follow three types of blogs: cooking blogs, my friends' blogs, and saving/coupon blogs. Admittedly, I've never been much of a coupon clipper. I don't think I've ever had the patience or made the time to hunt for them. I'm also notorious for clipping and forgetting, but since I've become an adult (ie, graduated from nursing school and started a real job again), I've put myself on a budget and trying to save money. I guess it's that pile of student loan debt that for my little world rivals the national debt (okay, maybe not THAT bad, but it feels like it!) that has inspired me to be more conscious of my spending habits. Rick actually helped me get set up on my budget and convinced me to set up a new checking account for "groceries, gas, and fun" which has actually worked out really well so far! I fished out this plastic, purple, accordion file that my mom had given me YEARS ago to organize my bills, actually labelled it so that I can organize my coupons alphabetically! My dad has always been big on coupons, and I'm hoping that I'm making him proud!
Since discovering
Friday Follow
, I've been introduced to quite a few really cool blogs that are all about saving money, getting free goodies, and coupons! Now, I enjoy browsing different blogs and checking out their posts about where to get cool free stuff and what specials certain stores are having. I've started getting the Sunday paper because all the cool coupons are there, and I recently discovered that there are websites out there that give a preview of what the Sunday coupons are. How exciting is that! Hmm....maybe I do need to get out more.
Here are some of the buttons (I think I may have button envy!) that will take you to some really cool places to help you stay on a budget. Be sure to continue to check them out on a regular basis, too. If you have any that you frequent or if you have your own, please share them in a comment.
So check 'em out!
This site I stumbled upon while looking for info on the Publix Penny Saver.
This site has a great
FAQ section
that explains about couponing that really helped change my attitude about couponing.
The name says it all....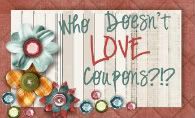 This blog has all kinds of links to giveaways and how to get free goodies in the mail (my new favorite thing to do)!
Here's one done by a fellow RN! (Me? Biased? Never!)

Thanks to all the awesome bloggers who do these sites! My bank account thanks you, too!